Published: Wednesday, December 16, 2020 02:59 PM
BUFFALO GROVE — As the colder months begin and more people are struggling financially due to the ongoing public health crisis, State Senator Adriane Johnson (D-Buffalo Grove) is hosting a winter coat drive to help families in need stay warm.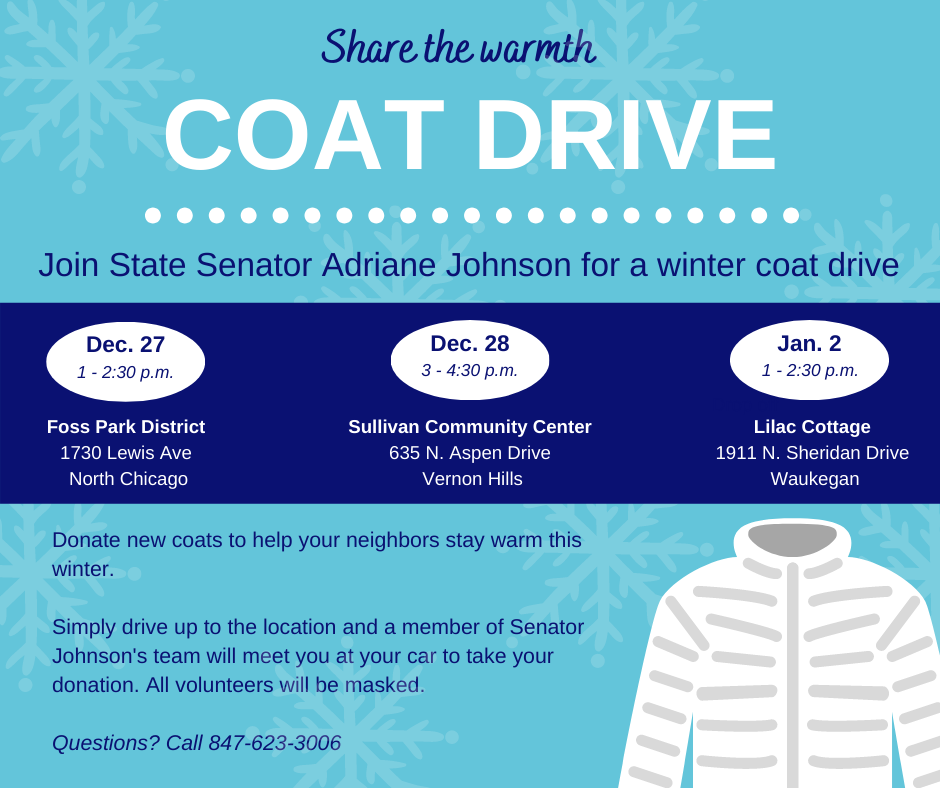 "Winter coats can be quite expensive — especially for families who have multiple children," Johnson said. "It's getting cold, and there are many people who don't have coats – including some children who are wearing coats that don't properly fit them. Please help our community by donating new coats this year."
To make it more convenient for people to donate, Senator Johnson will host a number of temporary drop-off locations throughout the district.
The dates and locations are as follows:
- Sunday, Dec. 27 from 1 p.m. to 2:30 p.m., Foss Park District, 1730 Lewis Ave, North Chicago
- Monday, Dec. 28 from 3 p.m. to 4:30 p.m., Sullivan Community Center, 635 N. Aspen Drive, Vernon Hills
- Saturday, Jan. 2 from 1 p.m. until 2:30 p.m., Lilac Cottage, 1911 North Sheridan Road, Waukegan
Senator Johnson's office will be wearing masks and following COVID-19 protocols at each location. People who would like to donate can simply pull into the parking lot and hand the coats off through their car window.
Donated coats will be given to a number of non-profits and townships in need throughout the district.
Anyone with additional questions can contact Senator Johnson's office at 847-672-4395 or This email address is being protected from spambots. You need JavaScript enabled to view it..